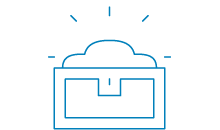 Make an appointment for advisory services or do everything yourself – you decide
Maybe you're interested in your savings but have trouble getting round to dealing with them. Or maybe you're not that interested and need help to get started. Whatever the situation, we can help you achieve your savings goals.
Make an appointment for personal advice at your branch office. An advisory meeting usually takes less than an hour.