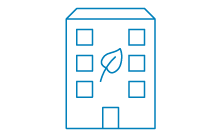 Buildings

To minimise the long-term negative impact from the construction sector, it is vital that both old and new buildings consume less energy. It's also important that new buildings and major renovations take into account environmental and climate factors through a sound choice of materials, and proper maintenance over time. This is why we offer Green loans for environmentally friendly buildings.
We offer Green loans to companies that own environmentally certified or energy-efficient buildings, companies intending to build new environmentally friendly and climate-smart buildings, and companies implementing energy efficiency improvements to existing buildings.
The financing of Green loans is linked to certain technical criteria to ensure that the environment and the climate are taken into consideration. Handelsbanken also continuously monitors each project financed with a Green loan.