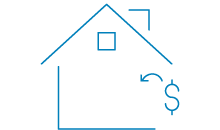 Amortisation
Amortisation means that you repay your loan. When you amortise your loan every month, the loan decreases by the same amount.
Amortisation requirement

Different amortisation requirements apply, depending on the loan-to-value ratio and debt ratio in question.

Demand for amortisation
The loan-to-value ratio represents the size of the mortgage loan in relation to the property's market value.
Debt ratio
The debt ratio reflects how much you are borrowing in relation to your gross salary.